Chiang Mai — Cafes
Top picks of where to work and drink coffee at similar times in Chiang Mai, Thailand (includes free narrative).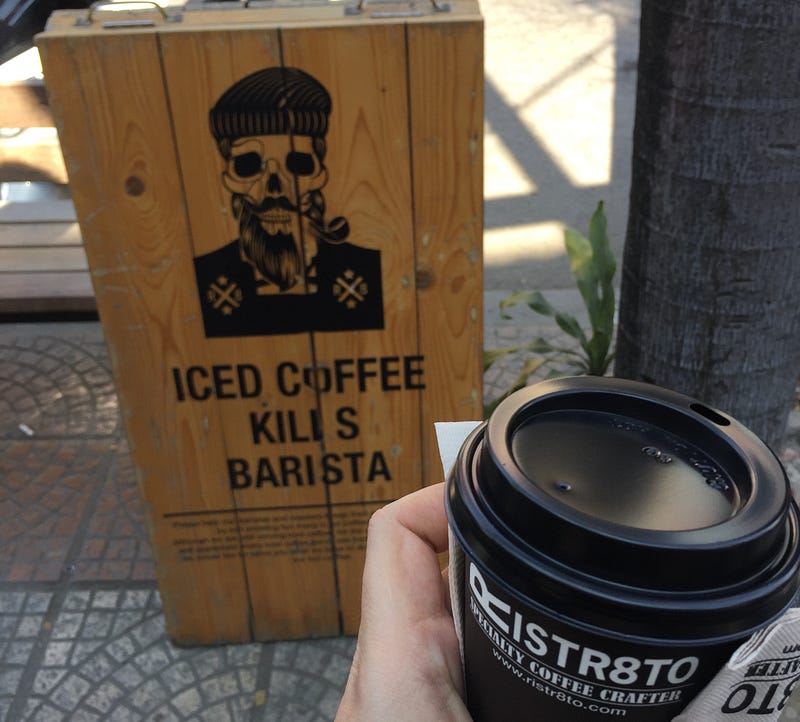 It has been just a little while since we were in Chiang Mai, maybe about four months, nonetheless this incredible resource should still be reasonably valid.
The first thing you should know is that there is a massive amount of great options when visiting Chiang Mai. Some award winning baristas and cafes are situated here, even when we visited the London Coffee Festival we found that some of the winners were from cafes we had visited earlier that month. The prices are cheap but not astonishingly cheap especially if you want a good blend or single origin. However, the fit-outs are always amazing, things that would either be on the edge of dodgy (exposed wires/pipes, not fully finished surfaces) in Australia or simply just not affordable (chalk artwork covering every surface of the building's insides). We found that every cafe had its own unique vibe, with some really experimental options found throughout.
The king of Chiang Mai is, of course, Ristr8to Chiang Mai, I still remember the first time I sat down to get coffee there. It was the first time I had been to Thailand and we were visiting friends in 2016. We had come from Kuala Lumpur, Malaysia and had found a few sweet cafes in our few days there. My friend advised me, as we were landing at the International airport which felt like a regional airport back in Australia, that "you wont find good coffee here so don't get your hopes up".
That was a challenge! So after some Googling and reading blogs I found that we were near this weirdly spelt place Ristr8to, firstly the '8' in that word does not even fit correctly — Ristr-eight-to — and photos online at the time were a bit questionable. We sat down in the cafe and were presented with a twelve page menu that contained only coffee, each option being explained in detail (including the 'Flat White' invented in Melbourne-NOT Auckland) in a great, consistent artwork style. The music brought me back to late high-school with awesome tracks from Incubus, The Used and Panic! at the Disco. I was in love. Oh and then there was the hilarious sign at the front 'Iced Coffee Kills Barista'.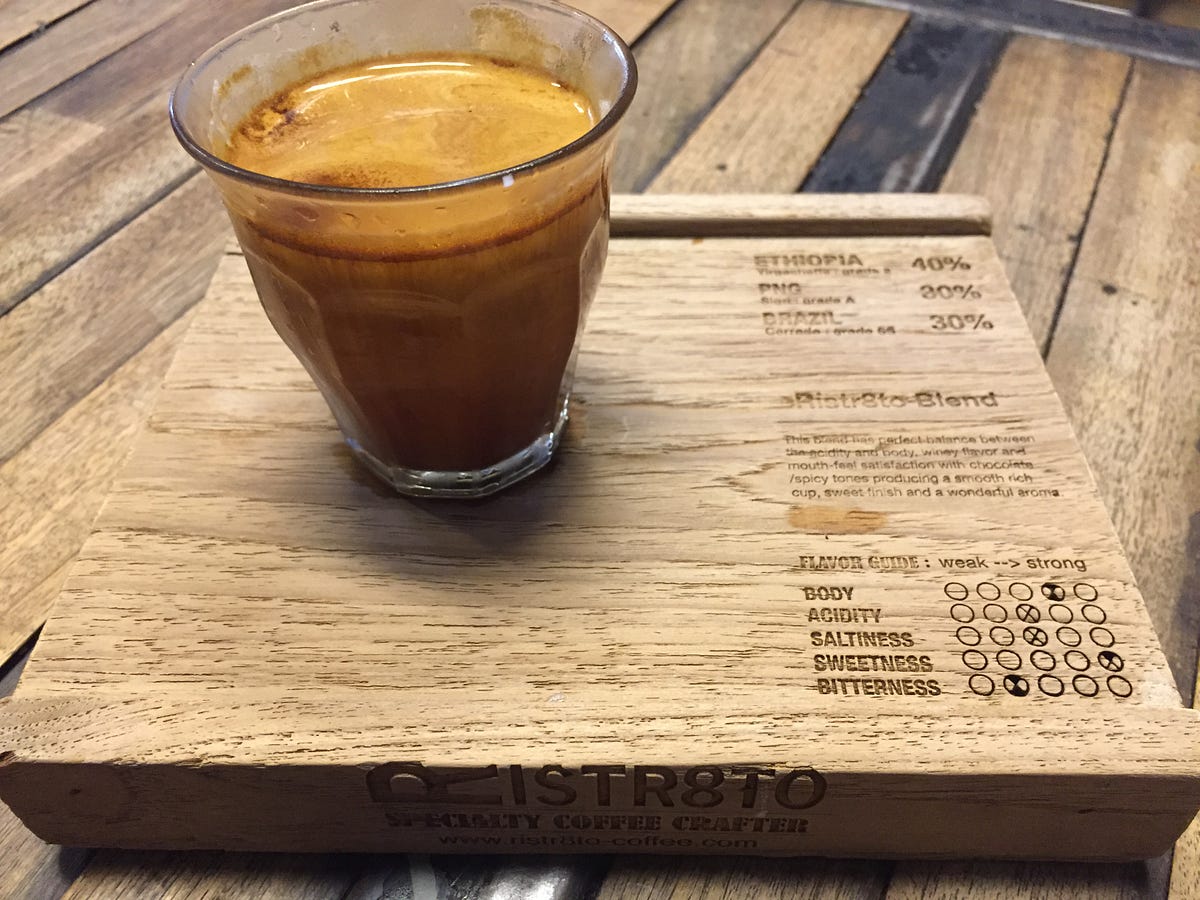 Every coffee you order in at Ristr8to comes with a sweet little wooden tray, with information about their main blend and their guide about coffee flavours. Now, this cafe is a great place to have an epic coffee but their wifi is subpar, probably intentionally to stop people from me from using up their tables for a whole day. The apartment we stayed at earlier this year was a short walk from this cafe so often we would go out and grab a coffee to take back to our apartment and work there. The funny thing that I could not predict about getting take away was the non-pattern regarding what they would give you with your coffee. Some days we would get a small bag to put our coffee in — a common feature in Thailand as it is easy to carry your coffee on mopeds. Other days we would get a single napkin with the coffee and sometimes just nothing. As someone who thinks about systems a lot, this caused some amusement in my heart each time I ordered and I did my best to figure out a pattern, the time of day or staff member, but none seemed apparent. This ability for places to do things that simply did not make sense to me made Thailand in general a really foreign but fun place to stay for three months.
Cafes in Chiang Mai
As per other cities, we have avoided the big franchises, unless Starbucks was the only place open when we needed to get our fix. The city is a lot smaller than Bangkok and hence there are not too many major franchise options, just lots of little cafes throughout the outer-city area. We stayed in a place known as the Nimman area, this is away from the city centre but we found it to be much better for cafe options and slightly less busy. Most good coffee will set you back between 65 THB (~$2.50 AUD) and 95 THB (~$3.50 AUD), Starbucks will be closer to 130 THB (~$5 AUD) for reference. For the quality — this price is ridiculously good, I am now in Warsaw, Poland and it is cheap here but nothing like that. Some general tips below.
Most cafes are counter service, paying when you order.
Most cafes were fine to take Credit/Debit Card (not EFTPOS), but cash did come in handy here and there so it is better to go in with some.
Opening hours on Google or even listed on the cafe door itself are not necessarily an indicator of real opening hours. This is just one of those random things that we had to get used to.
Opening late — some cafes will be open as early as 7am (no earlier), however most of them open at around 9am or even 10am. They all pretty much stay open until after 9pm, this is a cultural thing so if you want to get an early coffee, best to have a different option ready, like your Aeropress.
Slow Coffee — This is the general term for filter and pour-over coffees, about half the cafes have these options available.
Fast Coffee — Generally, this will be the collective term for espresso style coffee, sometimes listed just as Espresso.
Long Blacks — They are a thing here at most places so you can be confident you will get a nice crema on your black coffee.
Getting Stuff Done in Cafes in Chiang Mai
We did not really have any issues with working for long stints (3 to 4 hours) at a single cafe. We found we needed to test the wifi more as some cafes had amazingly fast wifi and some had wifi but it was choppy or sometimes just did not work. Passwords for wifi are usually put somewhere near the counter or on the menu board, sometimes on their printed menu but if in doubt just ask.
Power points were very common but not always at every single seat. Finally, the cafes can be smaller (< 20 seats on average) which means you might not always get your favourite spot to sit down. Wifi speed was sufficient at most places, our apartment and the building's shared facilities had reliable wifi so we found we did about a third of our work back 'home'.
Top Cafes
Ristr8to & Sister Cafes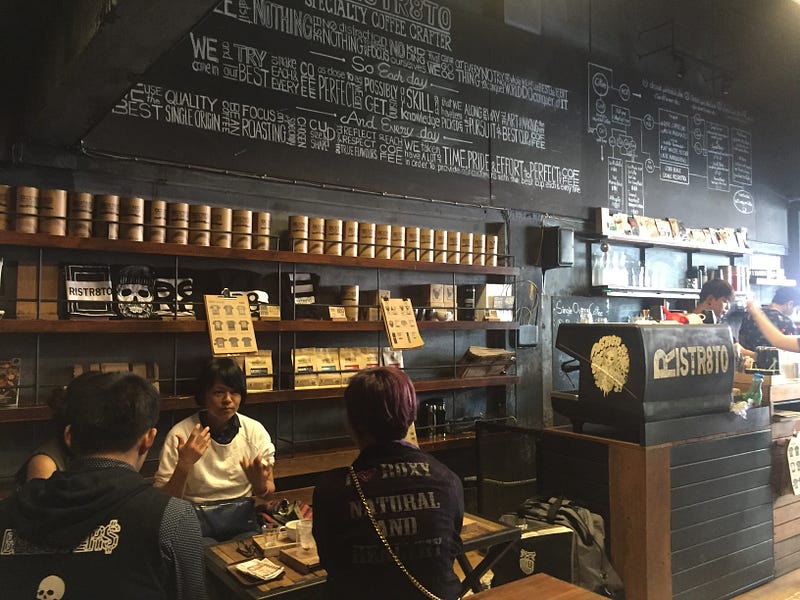 This place is the must do when visiting Chiang Mai, when you get there be sure to look at the back of their cafe menu as they have a list of some other cafes they recommend you visit (even competitors just around the corner). They have a few sister cafes with different names, you can find out more on their menu, we went to each one throughout our visit and can recommend them all (eg. Ristr8to Lab , Dolcetto Cafe and Doppio Ristr8to in a shopping mall, the centre directory is wrong so just walk around until you find it).
Verdict : Amazing for enjoying coffee (with super latte art) and reading, not great for working.
Location : 15/3 Nimmanhaemin road, Suthep, Mueang, Chang Wat Chiang Mai 50200, Thailand
Links : Google Maps Website Facebook Instagram
Nimmanian Club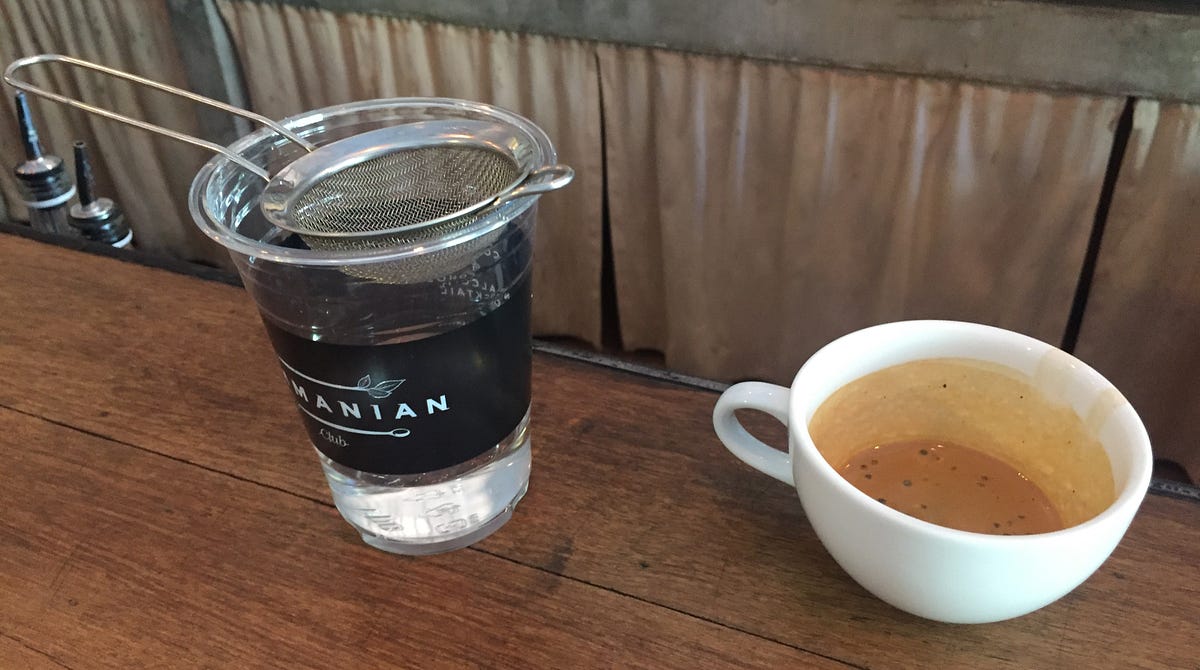 Nimmanian Club is an awesomely unique experience, they are more like a cocktail bar than a cafe but serve no alcoholic drinks. All of their drinks are coffee or tea inspired, drinks like 'Butterfly Pea Tea' and 'Citrus Flat White' are on the menu and I only wish we got to try each and every single drink. There is a lot of theatre to the place, especially if you sit at the bar while they make your drink. We worked here a little but mostly just came to experience the unbelievable drinks.
Verdict : Amazing for enjoying a unique coffee experience, ok for working.
Location : Su Thep, Mueang Chiang Mai District, Chiang Mai 50200, Thailand
Links : Google Maps
Cottontree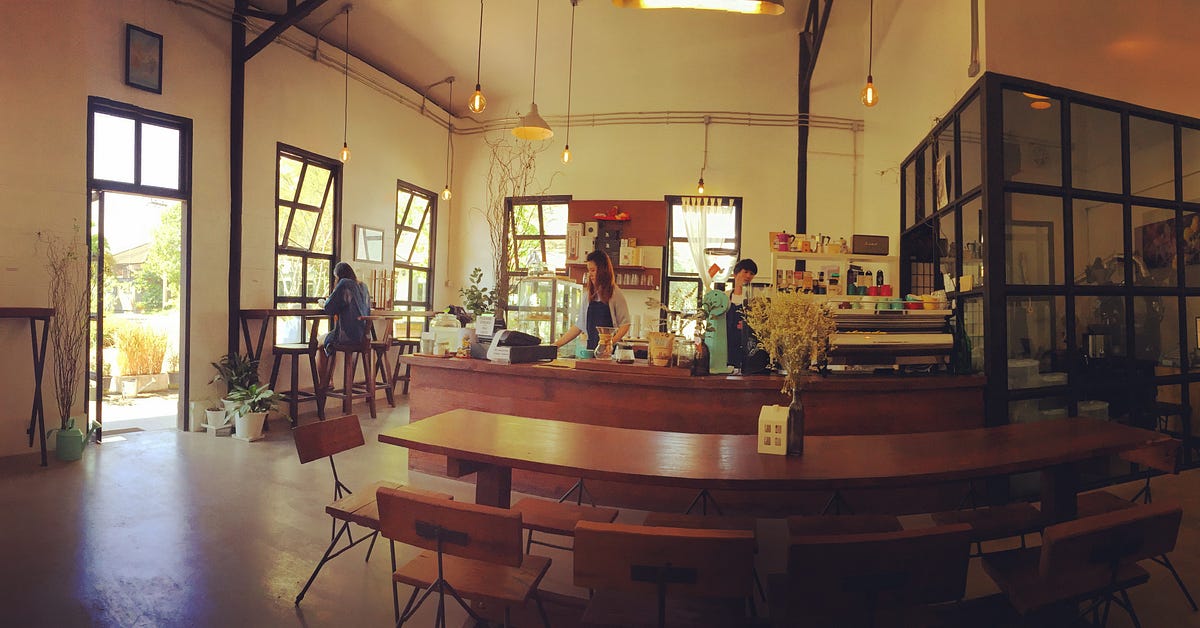 Finding this place was a bit of an adventure, the location seems like it is connected to a nursing home slash hospital complex. Once you are in though you will love the place, a small but quality coffee menu with some epic filter options on the list. We went here a few times, the coffee was great but the wifi stopped working one day randomly so we ended up trying different places the second half of our trip.
Kram Coffee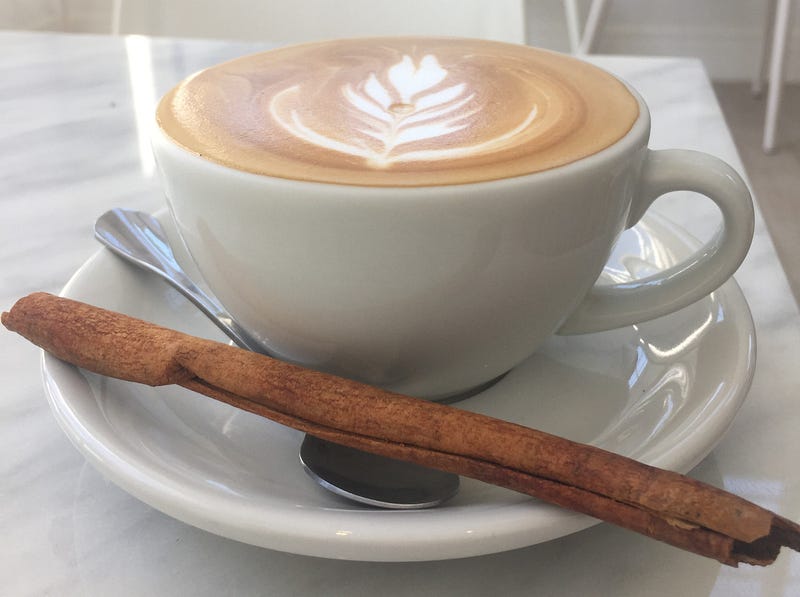 Not sure about the cinnamon sticks with coffee but Kram Coffee was a great place to get a flat white and get stuff done. It seemed like the cafe had only opened recently so it was a nice new fit-out, comfortable seats and good Wifi. One oddity was that the toilets were sort of behind the counter, so every time I went to the bathroom I had to make an awkward 'hey' as I passed the counter. Beyond that, it is more of a working cafe but good nonetheless.
Akha Ama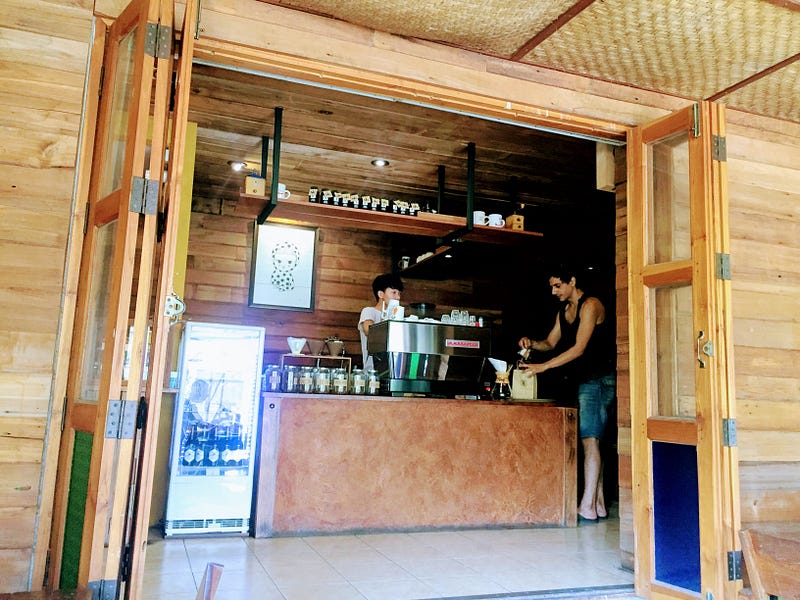 We only went here once but wish we went there more, it was a really stunning place and stands out as one of the key cafes in the city to visit. It is near-ish to the Nimman area and down a crazy small set of Thailand suburban streets, I was nervous our uber driver would just give up and tell us to get out. The coffee was delicious and is all grown from the local area, a really relaxing vibe and incredibly fast wifi.
Nine One Coffee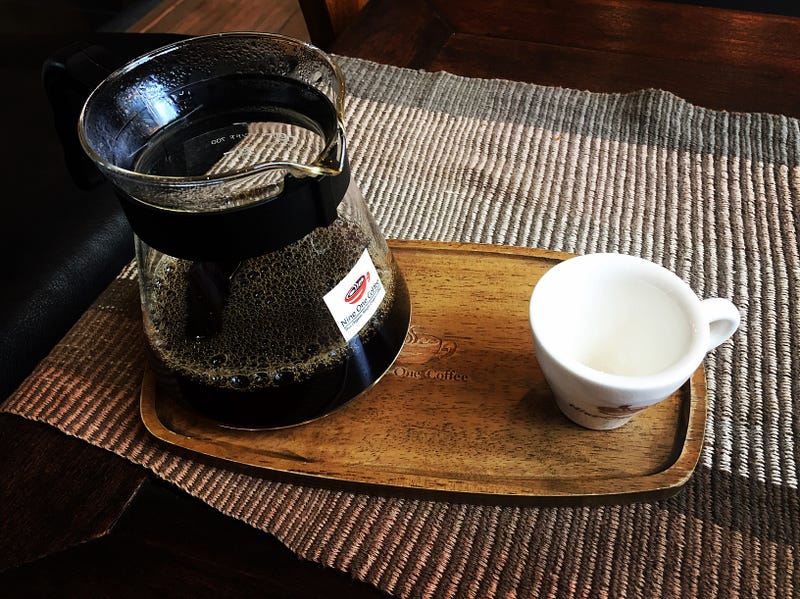 So this place is not on Nimmana Road Lane 9 or 1, which just confused me each time we went. Aside from that, the place was an instant hit with Bec and I, the staff were really friendly and it did not take long for this to become one of our staples and they knew our regular orders. Facility wise it had good air conditioning (it started to get really hot by the time we left in March) and easy access to clean toilets. However the wifi would stop every 45 mins and require me to reset my connection, but it was only a minor inconvenience.
Three Bonus Cafes
We only visited these once each so I cannot give a full review but each one stood out as having extraordinary coffee by baristas that loved their craft.
Khagee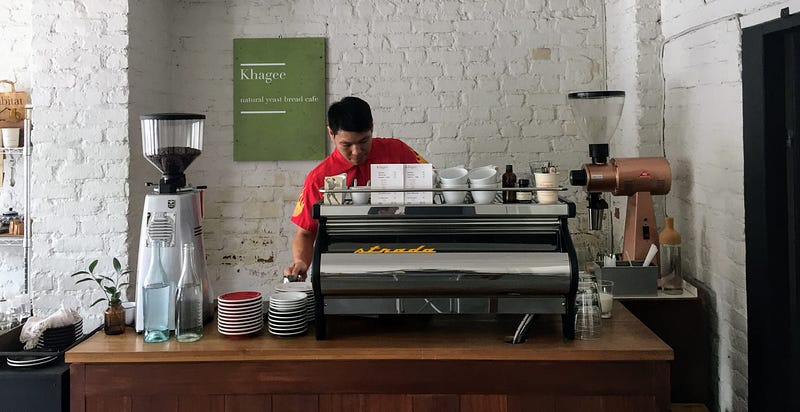 Khagee stood out as it had great bakery treats and the barista set up was classy and the coffee was oustanding. We only got to visit this place once, near the end of our trip, but we would have made it a staple had it not been a bit far from our apartment.
Graph Coffee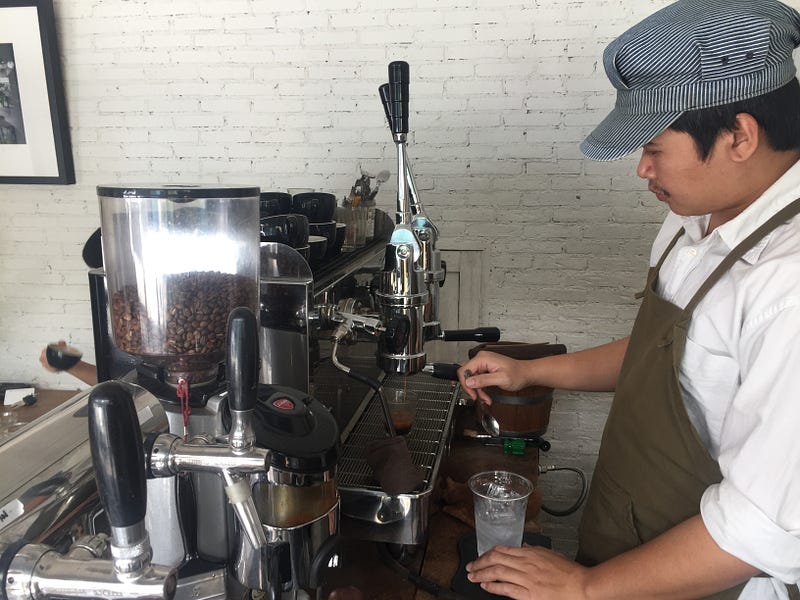 At first, I thought we had walked to the wrong spot, the place was tiny with barely enough room for the three tiny tables they had. I walked in and it was packed with people standing and sitting, so we got an iced long black to go. The quality, equipment and care of this was outstanding and if there had been a seat inside at the time I think this would have been a great experience. Instead, I drank my coffee on a log outside while waiting for our Uber. They had a great array of options for cold brew and other styles of coffee so it is well worth the find. Note that this is right in the heart of the city centre. Cars can barely drive through this part so if you are getting an Uber, you will need to get one dropped off near by. This place also gets mentioned because I love Graph Databases.
Omnia Cafe & Roastery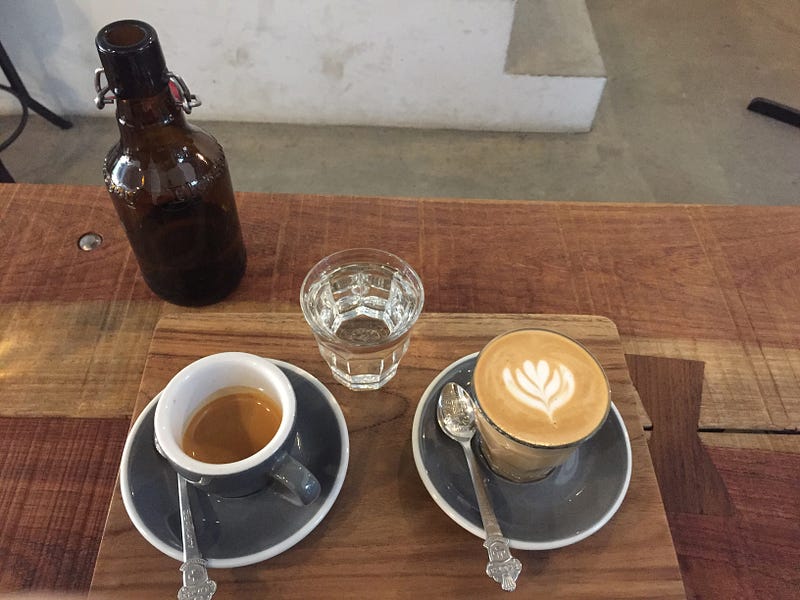 A bit out of the way from where we were staying so we took an Uber there. It seemed to be in a semi-industrial area and there was that moment of fear when we got out of the Uber that we were just let out somewhere random. Looking around, we found the place and were delighted by really marvelous coffee, I could have sat there for hours as the atmosphere was relaxed and the fit-out was top notch. Also, this was the only place we saw with 1+1 (usually a black and white coffee on the same blend) on offer, which was an obvious YES from me.
Final Comments
Writing this after four months made me miss Chiang Mai a bit. I know I will be back sometime in the future to check out the cafes that were on our list but we didn't even get to see. I am thankful to all the baristas and staff that smiled at my attempt to say thank you in Thai and were passionate about the spaces and tastes of coffee they were producing.
If you love coffee or liked reading this, be sure to click the heart.
Let me know in the comments which ones you have visited or any I missed for next time.
Canonical link